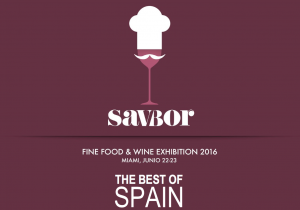 A new edition of the food and trade show, called "Savbor" is held in the Double Tree by Hilton Miami Airport & Convention Center, in Miami (Florida) during 21st and 22nd of June. This edition wants to be a more international trade show for Spanish companies who will be able to meet companies from the USA, South America and Caribean region.
More than a thousand of professionals are expected to attend the show for tasting and discovering new flavours and products from Spain. Miami is considered the main "show-room" to enter in the market of U.S.A. and other countries surrounding this city.
This show is sponsored by the Chamber of Commerce Spain-USA in Miami, main actors from restaurants, distribution and retail are called to discovered new products "made in Spain" which are entering in the market. Quality food such as Aceites Olimpo offers with its olive oils and table olives.
Savbor Food & Wine Exhibition 2016 has the collaboration of Mediterranean Diet Foundation, Federación Española del Vino, Associació Vínicola Catalana, Institut del Cava, Vinos y Alimentos de Madrid and other institutions such as IVEX, IGAPE and EXTENDA.
Aceites Olimpo is a extra virgin olive oil producer and bottler of edible olive oils and table olives from Albacete, Spain. We will be exhibiting for first time in Savbor, our goal is entering in the American market, finding importers and distributors of this region. Visitors can taste our best Extra Virgin olive oils and our green stuffed olives.