Foreign Trade Institute of Castilla La Mancha (IPEX) organizes a business meeting between companies of this Spanish region and German companies, it will be held in Essen and Stuttgart on 19th and 20th of November. Olimpo will participate on this event, presenting their diverse range of products, focusing the attention in the extra virgin olive oil. Taking advantage of this time of the year as the new harvest is already in process; Olimpo will present its new harvest 2013 extra virgin olive oil.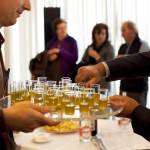 This business meeting will be livening up with two tasting seminars, one about wine tasting and another one about olive oil tasting. It will be run by Mr. Peer F. Holm, German expert on wine and olive oil tasting.
Olimpo will present its extra virgin olive oil and its Crianza wine "Granadillos". Different groups of interest from the German regions of Essen and Stuttgart will be able to attend this tastings and enjoy our products.
This Grand Tasting of wines and foods from La Mancha will be held in Hotel Atlantic Congress in Essen and Hotel Dormero in Stuttgart, companies from Castilla La Mancha will exhibit their products (wine, olive oil, olives, vinegars, Manchego cheese, honey, saffron, etc). Professionals from hotels, restaurants, catering and foods distribution will be able to taste and know this rich variety of quality products from the land of Don Quijote.